Japanese Reishi Mushrooms for Dogs - 50 Vegetarian Capsules per Bottle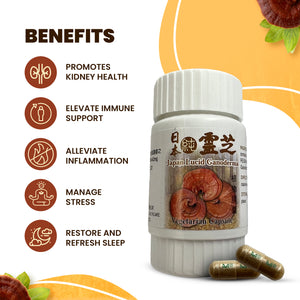 Introducing our new premium M&A Japanese Reishi Mushrooms - a symbol of vitality, longevity, and well-being deeply rooted in the rich tradition of Chinese herbal medicine. With a history dating back thousands of years, this revered mushroom, known as "Reishi" or "Lingzhi" in Chinese, has been cherished for its potential to promote optimal health.
Highly-Concentrated Japanese Reishi Extract:

Each capsule boasts 550mg of potent Japanese Lucid Ganoderma extract, renowned for its exceptional quality and health benefits.
Optimal Absorption:

Our capsules are carefully formulated to enhance absorption rates, ensuring that the body efficiently assimilates the active ingredients for maximum benefits. This includes a powerful combination of 500mg of Reishi mushroom extract and 50mg of other essential compounds.
Twice Daily Wellness Ritual:

Convenient and easy to incorporate into your daily routine, take one capsule in the morning and another in the evening. This regimen ensures a consistent supply of Reishi goodness throughout the day, promoting overall well-being.
Stored Freshness:

Maintain the potency of your Reishi mushroom capsules by storing them in a cool and dry place. Our packaging ensures the preservation of the mushrooms' integrity, delivering the benefits of nature's goodness directly to you.
Hong Kong Packaged Quality:

While our Japanese Reishi capsules are sourced from the rich traditions of Japan, rest assured that our product is carefully packaged and quality-controlled in Hong Kong. Enjoy the best of both worlds – the premium Japanese Reishi and the reliability of Hong Kong packaging.
Grown in Japan, Packaged in Hong Kong