Reishi Mushrooms for Dogs - 50 Vegetarian Lingzhi Capsules per Bottle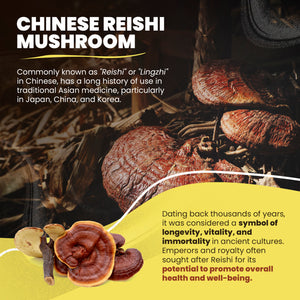 Reishi Mushrooms for Dogs
Introducing our new premium M&A Reishi Mushroom from Hong Kong - a symbol of vitality, longevity, and well-being deeply rooted in the rich tradition of Chinese herbal medicine. With a history dating back thousands of years, this revered mushroom, known as "Reishi" or "Lingzhi" in Chinese, has been cherished for its potential to promote optimal health. 
Tailored for Canine Kidney Health: Specially formulated to support and maintain optimal kidney function in dogs, promoting their overall well-being.
Natural and Pure Reishi Extract: Our product is made from pure Hong Kong Reishi Mushroom extract, ensuring its potency and efficacy for canine health.
Scientifically Tested and Vet-Approved: Rigorously tested to meet the highest quality standards and trusted by veterinarians for its potential benefits to canine kidney health.
Gentle on Digestion: Crafted to be gentle on your dog's digestive system, making it easy to incorporate into their daily wellness routine.
Enhances Vitality and Longevity: Harness the power of Reishi to enhance your dog's vitality and longevity, keeping them active and happy throughout their life.
Easy Administration: Designed for hassle-free administration, whether mixed with food or given as a standalone supplement, making it convenient for pet owners.
Give your furry friend the gift of better kidney health with our Hong Kong Reishi Mushroom supplement. Prioritize their well-being and provide them with a natural, trusted solution for a healthier and happier life.
These statements have not been evaluated by the Food and Drug Administration. This product is not intended to diagnose, treat, cure, or prevent any disease.
*Results May Vary. Please consult your veterinarian regarding any change in treatment or supplementation.
Product of Hong Kong
This product has noticeably improved my pup's mobility and overall well-being and its easy integration into meals makes it a seamless addition to his daily routine and I plan to continue using it as part of his holistic care!
I started giving my dog Reishi mushroom supplements a few weeks ago, and I'm amazed at the results! His coat is shinier, he's more active, and he hasn't been sick since. It's an easy way to boost his health naturally. Highly recommended!