Yunnan Baiyao Powder 4g x 6 Vials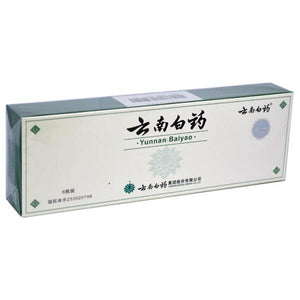 PRODUCT DESCRIPTION:
YUNNAN BAIYAO POWDER

Size: 4G x 6 Vials
YUNNAN BAIYAO POWDER: 

SAME FORMULA AS INSIDE THE CAPSULES! 

Yunnan Baiyao is one of the most prized formulas in all of Chinese Medicine and has been used for hundreds of years.  It is so prized that the complete formula is kept secret even from the people who work to produce this product.  This is because this is the most effective formula that helps stop bleeding while at the same time continuing to help proper circulation of blood.  Yunnan Baiyao Jiaonang be used internally (but please consult a physician first).  The contents in the capsule may be applied directly onto small wounds to stop bleeding and accelerate healing. Find out more about the intriguing history and modern day healing powers of Yunnan Baiyao on our blog

Yunnan Baiyao is a 100% all natural herbal formula used by Chinese Medicine Practitioners for over a hundred years.  There are many routes of administration of Yunnan Baiyao.  You can find Yunnan Baiyao in:
- Powder: Yunnan Baiyao Powder
- Tincture: Yunnan Baiyao Tincture (with sponge applicator)
- Aerosol Spray: Yunnan Baiyao Qiwuji Aerosol Spray
- Plaster: Yunnan Baiyao Plaster 

* Yunnan Baiyao is used in both human and animal (cat, dog, horse) applications - in both everyday accidents and emergencies.

Yunnan Baiyao also helps to relieve muscle pain associated with exercise and supports the health of the tissues, the immune system, and the nervous system.

Additional information regarding Yunnan Baiyao can be found at the US National Library of Medicine.

YUNNAN BAIYAO FOR DOGS:
Yunnan Baiyao is often used to extend the life of dogs with bleeding cancers such as hemangiosarcoma. This will help bring relief to animals as there are pain relieving benefits to Yunnan Baiyao. Some treatments for cancer, such as Chemotherapy, tend to promote bleeding; it makes sense that given an herbal remedy to promote blood clotting would be a benefit.

It is believed that Yunnan Baiyao works by activating the platelets, which are the small blood components that help make blood clot. Blood clots are the first step in a scab. They are like little plugs or corks in the way they stop hemorrhage.

YUNNAN BAIYAO DOSAGE FOR DOGS:
Yunnan Baiyao should be used only after consultation and in collaboration with your  vet.
Do not give Yunnan Baiyao on an ongoing basis.  It is best to give it on alternating days, or for a 5-day on, 5-day off cycle that repeats.  Consult your doctor or vet on best course of treatment for your pet.