Wong To Yick - Wood Lock Medicated Pain Relief Oil - 50ml / 1.7 Fl Oz.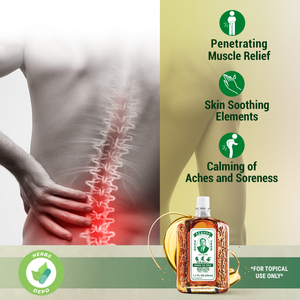 PRODUCT DESCRIPTION
WONG TO YICK - WOOD LOCK OIL 
Also called 黄道益活络油, HUANG DAO YI HUO LUO YOU
Size 1.7 fl. oz (50ml)
WONG TO YICK - WOOD LOCK OIL:
Wong To Yick - Woodlock Oil is a popular external pain reliever renowned for its fragrance, healing, and soothing properties.  With a pronounced soothing scent, this oil is truly a multi-purpose elixir that can be used for many problems ranging from the flu to minor irritations, insect bites, headaches, muscular aches, backaches, arthritis, strains, bruises, sprains, or stomach aches. 
PERFECT FOR PAIN RELIEF: Temporary relief of muscle aches and pain; For relief of sprains and bruises, Shoulder and Back Pain as well!

SOOTHING & ALLEVIATING: This oil soothes, alleviates, reduces, and eases sore muscles and joints, ankles, feet, hand, arm, etc. like no other!

PERFECT SIZE: Each Bottle contains 50 ml of medicated balm/massage oil for muscle aches and pains.

TRADITIONAL & WELL-KNOWN: Created in 1968, this US Version of Wood Lock Oil is known throughout the world for its success in relieving pain!

EXTERNAL USE ONLY: This topical analgesic is only to be applied on the skin. Please be careful when applying!
WONG TO YICK - WOOD LOCK OIL IS USED FOR:
✔ Minor muscle and joint pain
✔ Backache
✔ Arthritis
✔ Strains
✔ Bruises
✔ Sprains
INGREDIENTS FOUND IN WONG TO YICK - WOOD LOCK OIL:
Menthol (16%), Camphor (10%)
TRADITIONAL CHINESE MEDICINE (TCM) BENEFITS OF WONG TO YICK - WOOD LOCK OIL:
- Moves Qi 
 

WHAT ELSE YOU NEED TO KNOW ABOUT WONG TO YICK - WOOD LOCK OIL:
Wong To Yick - Woodlock Oil is the product of choice for many acupuncturists and massage therapists for application of Gua Sha therapy.
SUGGESTED USAGE OF WONG TO YICK - WOOD LOCK OIL:
- Apply oil to the affected area not more than 3 to 4 times daily.
UPC 4897003000146
Manufactured by Wong To Yick Wood Lock Ointment Ltd
Best Pain Relieving Oil!
Blasts pain away with some massaging. Highly recommend!
Best Pain Reliver!!
The best pain relieving oil I have used, I use it after workouts to help recover sooner. Or when I have any aches.
The Best Medicated Oil in the Market
I've been using this Wood Lock oil for over 25 years, ever since I started training in Kung Fu and it is the most amazing medicated oil I have ever used, there is no comparison. My family has been using this oil for generations. Since it has become so popular in China and Hong Kong there are a lot of fake oils that try to replicate or duplicate it, but the quality is horrible, you have to be very careful where you purchase from, you need to go to a trusted merchant. I have brought from fraudulent merchants on Ebay on 4 occasions and they have sent me fake oils. But here at HerbsDepo.com, they sell the real thing. Also the price is good here as well, I highly recommend to purchase this oil from Herbsdepo. Every student I have that has tested this oil has loved it and have purchased their own. I highly recommend this product.
Works wonders.
I deal with constant burning sensation in my left shoulder, less in the right one. But since I started to use this oil the shoulders are basically free of any pain, unless I do something wrong to upset the shoulders in the gym. I alternate with Biofreez or Tiger, but Wong to Yick is doing better specifically at night time when sleep is a must. The seller is AAA rated, takes little bit long for the shipment to arrive, but one bottle will last at least a month, until next order. I started with one bottle as a trial and second order was of 3 bottles at a time, instead of one. Good price and good bang for the buck. And most important it works for me.