Yunnan Baiyao Capsules - For Pets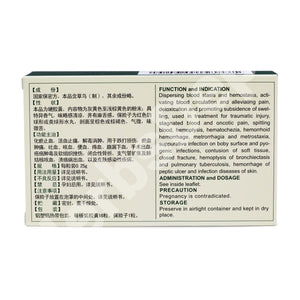 PRODUCT DESCRIPTION:
YUNNAN BAIYAO JIAONANG
Also called 雲南白藥膠囊, 云南白药胶囊
Size 16CT + 1 EMERGENCY RED PILL
YUNNAN BAIYAO JIAONANG:
Yunnan Baiyao is one of the most prized formulas in all of Chinese Medicine and has been used for hundreds of years.  It is so prized that the complete formula is kept secret even from the people who work to produce this product.  This is because this is the most effective formula that helps stop bleeding while at the same time continuing to help proper circulation of blood.  Yunnan Baiyao Jiaonang be used internally (but please consult a physician first).  The contents in the capsule may be applied directly onto small wounds to stop bleeding and accelerate healing. Find out more about the intriguing history and modern day healing powers of Yunnan Baiyao on our blog

Yunnan Baiyao is a 100% all natural herbal formula used by Chinese Medicine Practitioners for over a hundred years.  There are many routes of administration of Yunnan Baiyao.  You can find Yunnan Baiyao in:
- Powder: Yunnan Baiyao Powder
- Tincture: Yunnan Baiyao Tincture (with sponge applicator)
- Aerosol Spray: Yunnan Baiyao Qiwuji Aerosol Spray
- Plaster: Yunnan Baiyao Plaster 

* Yunnan Baiyao is used in animal (cat, dog, horse) applications - in both everyday accidents and emergencies.

Yunnan Baiyao also helps to relieve muscle pain associated with exercise and supports the health of the tissues, the immune system, and the nervous system.

Additional information regarding Yunnan Baiyao can be found at the US National Library of Medicine.

YUNNAN BAIYAO FOR DOGS:
Yunnan Baiyao is often used to extend the life of dogs with bleeding such as hemangiosarcoma. This will help bring relief to animals as there are pain relieving benefits to Yunnan Baiyao. Some treatments for cancer, such as Chemotherapy, tend to promote bleeding; it makes sense that given an herbal remedy to promote blood clotting would be a benefit.

It is believed that Yunnan Baiyao works by activating the platelets, which are the small blood components that help make blood clot. Blood clots are the first step in a scab. They are like little plugs or corks in the way they stop hemorrhage.

YUNNAN BAIYAO DOSAGE FOR DOGS:
Yunnan Baiyao should be used only after consultation and in collaboration with your vet.

How much to give your animal / dogs? These are general guidelines:


For animals / dogs under 10 lbs, give 1 capsule by mouth one time a day.
For animals / dogs from 10 to 30 lbs, give 1 capsule by mouth two times a day.

For a

nimals / dogs above 30 but less than 60 lbs, give 2 capsules two times a day. 

For 

animals / dogs above 60 lbs, give 2 capsules three times a day. 
Do not give Yunnan Baiyao on an ongoing basis.  It is best to give it on alternating days, or for a 5-day on, 5-day off cycle that repeats.  Consult your doctor or vet on best course of treatment for your pet. 

Content:

1 package contains 16 Capsules, plus one "magic" Red Capsule (traditionally used internally for emergencies.)

Each capsule is 25mg or 0.025g.
*Results May Vary. Not intended for human consumption. Please consult your veterinarian regarding any change in treatment or supplementation. These statements have not been evaluated by the Food and Drug Administration. This product is not intended to diagnose, treat, cure or prevent any disease.
We accept returns if no longer needed.  Returns are subject to a $5 restocking fee.  
Yunnan Baiyao 5-pack
Recommended by our vet. Reduces nasal bleeding. Purchasing 5-pack is convenient. Shipping is fast. I do wish we didn't need it.
🐶🥺
Wow...Really a total turnaround for my pooch!
After 2 capsules twice a day for 3 days: my dog who would'nt eat and hardly drink and would not walk and needed help getting up from floor....Suddenly, his appetite returned full bore, he is drinking lots again and is now walking his full route(s) twice a day again...He is 14 years old and a big boy (88 LBs) and the Vet's said he had some kind of internal bleed going on...Surgery at his age is a risk of its own, so my Vet recommended I try Yunnan Baiyao...Well, it sure worked for the Bruno Man...Maybe not a forever fix, but, for now he is 100% himself and living the good life again!! I now have him on a single capsule twice a day and after another few days will likely go down to a single capsule a day for few more days...If no regression occurs I will keep him on 1 capsule every other day for the long run....
Really fantastic product!!
This was prescribed for my Bassett Hound I had years ago and this is truly an amazing product. I found this at Herbs Depot because I needed it for my almost 17 year old daschund, and it has been super! I call it miracle medicine!
Yunnan Baiyao Capsules - For Pets
Good Medicine
I have been giving my dog this medication and it really has helped him with the nose bleeding
Thank you so much