Tibetan Baicao Tea - 10 Bags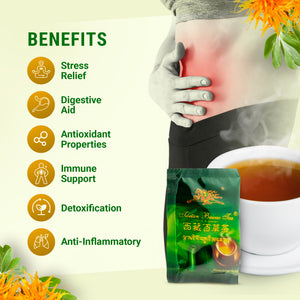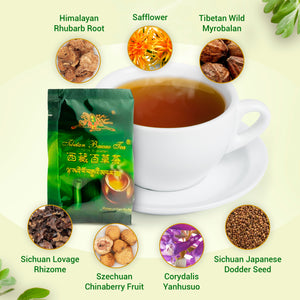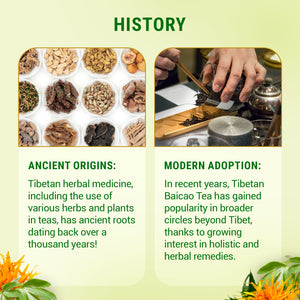 PRODUCT DESCRIPTION:
TIBETAN BAICAO TEA
Also known as 西藏百草茶, ATHI - TIBETAN BAICAO TEA
10 Bags / Box  (10 Grams / Bag) 
Please check out our blog:
TIBETAN BAICAO TEA:
Discover the purity of Tibetan BaiCao Tea, a harmonious blend of hand-picked natural herbs sourced from the pristine heights of Tibet. Our tea is free from preservatives, artificial colors, or additives, ensuring an authentic and wholesome experience.
Tibetan BaiCao Tea is known for its potential benefits, aiding in digestion and detoxification. It has been traditionally associated with alleviating discomfort caused by conditions like gout soreness, rheumatoid arthritis, inflammation, and allergies. Additionally, it fortifies the immune system, promoting overall well-being.
Each package includes ten tea bags, with each bag containing 10g of this extraordinary herbal infusion. Savor the taste of Tibet and embark on a journey to better health with every sip.
The ATHI - Tibetan Baicao Tea is by far one of our most popular items.  People can't seem to get enough of it!

TIBETAN BAICAO TEA IS USED FOR:
Baicao Tea may be used to alleviate inflammatory conditions in the body such as: 
Gout
Hay Fever / Seasonal Allergies
Eczema
Detox
Allergies
HERBAL INGREDIENTS FOUND IN TIBETAN BAICAO TEA:
Radix Glycyrrhizae (Chinese Liquorice) 3500mg
Flos Chrysanthemi 2500mg
Radix Saphoshnikoviae 2000mg
Radix Scutellaria baicalensis 1000mg
Fructus Siratia grosvenorii (Monk Fruit) 1000mg
TRADITIONAL CHINESE MEDICINE (TCM) BENEFITS OF TIBETAN BAICAO TEA:
Expel Heat

Expel Dampness

Replenish Qi

Remove Toxins
SUGGESTED DOSAGE OF TIBETAN BAICAO TEA:
Serving Size:  1 Bag.  Adults take 1 bag/day.
Mix 1 Tea Bag in 300ml of hot water.  Consume while lukewarm. 

How to Prepare Tibetan Baicao Tea: The preparation method can vary depending on personal preferences and the specific blend of herbs. Here's a general guide:
Boiling Water: Start by boiling water to near boiling point (about 200°F or 93°C).
Herb Infusion: Place the Tibetan Baicao Tea blend (typically 1-2 teaspoons) in a teapot or cup.
Pour Hot Water: Pour the hot water over the herbs and allow it to steep for 5-10 minutes. Adjust steeping time to taste.
Strain: If you prefer, strain the tea to remove any loose herbs.
Serve: Serve the tea hot. You can add honey or a slice of lemon for flavor, if desired.
No reception of the tea bags yet
I have not received it yet.
TIBETAN TEA
Good morning ,
I have received the 20 boxes of TIBETAN tea and I thank you for it.
I noticed that in some boxes, one or two sachets were open.
I haven't had the tea yet because I have 1 box left from the old order that I placed with another retailer.
I will compare the two products to find out which is better.
Once again thank you for finding your site.
Best regards
gout & allergy relief
great for allergies and my gout symtoms! Really helps with inflammation, which is the trigger for allergies and gout.
Allergies!
Great for allergies relief, gout, and inflammation. Glad I found it online. Good seller!
I am shocked and amazed by this product .
I have osteo arthritis throughout my body. I drank one cup of this tea and the next morning my pain was almost completely gone. I am shocked and amazed by this product .