Fritillary Bulb Extract - Sweet, Delicious and Effective Oral Liquid Dietary Supplement Cough Syrup (Chuanbei Ye Syrup) - 6 Bottles (10 ml per)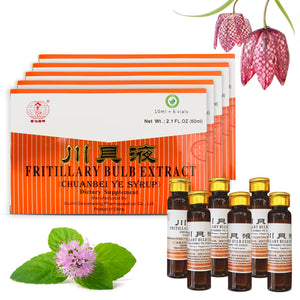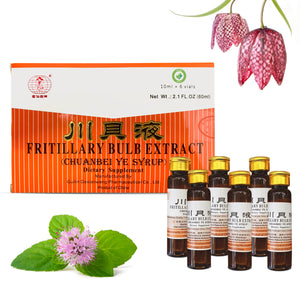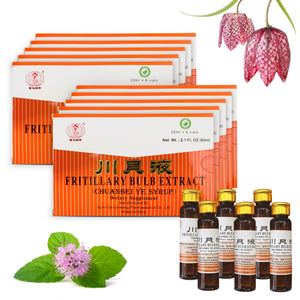 Fritillary Bulb Extract has been around for more than 70 years and is still being used worldwide till this day. This proven all-natural formula of fritillary bulb extract along with apricot kernel water along with honey has also created a sweet taste that all ages can enjoy when suffering from coughs.
COUGH RELIEF: This honey cough syrup is known for its effectiveness on dealing with coughs.

CLEAR LUNGS: Not only for coughs, this natural remedy works also as a phlegm remover, helps clear lungs with congestion, dry throats and more!

CHILD FRIENDLY: How many children dislike taking cough medicine? Look no further! Fritillary Bulb Extract's formula includes honey and some sugar to make it delicious and easy to drink!

NON-DROWSY: Many cough syrups make you drowsy. This non-drowsy syrup will allow you go about your day while fixing your problems!

EASY TO USE: Every box comes with a pick and 6 straws. Just poke, insert, and drink! Easy, simple, and convenient.