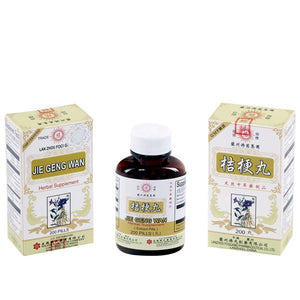 PRODUCT DESCRIPTION:
 JIE GENG WAN
LANZHOU FOCI
200 Pills / Bottle
Also known as 桔梗丸
JIE GENG WAN:
Jie Geng (Balloon-flower Root), is a popular herb that is used to support the health of the upper and lower respiratory system.  
This natural herb is a plant native to many areas in Asia such as Japan, China and South Korea.  The name of the flower comes from the appearance of its flower buds, which tend to swell up like a balloon before they pop open eventually.  These plants grow to be about three-feet tall.  In Traditional Chinese Medicine (TCM), the root of the balloon flower has been used by Chinese herbalists for centuries to help with the throat, lungs and upper respiratory system.
Delivering the pure benefits of the Balloon-flower Root, Jie Gan Wan is used to support the body as during cold and flu season.  Some herbalists in China also use this root to help regulate the circulatory system.  Balloon flower root also is used in South Korea and China in salads and kimchi.
JIE GENG WAN IS USED FOR:
✔ Cough
✔ Phlegm accumulation
✔  Heat and dampness in the Lungs
✔ Chronic bronchitis
✔ Asthma
✔ Emphysema
✔ Pulmonary abscess
HERBAL INGREDIENTS FOUND IN JIE GENG WAN:
Balloon-flower Root

TRADITIONAL CHINESE MEDICINE (TCM) BENEFITS OF JIE GENG WAN:
- Diffuses Lung Qi
- Benefits the throat
- Dispels phlegm
- Expels pus
- Relieves cough
SUGGESTED DOSAGE OF JIE GENG WAN:
Take 8 pills, 3 times daily with warm water. 
UPC 049987013078
Manufactured by Lanzhou Foguang Parmaceutical Co. LTD.

Product of Lanzhou, China