Jin Gui Shen Qi Wan - Tong Ren Tang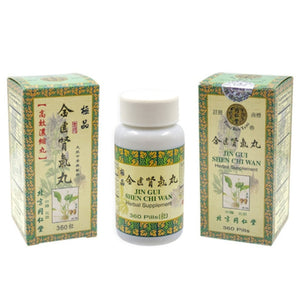 PRODUCT DESCRIPTION:
JIN GUI SHEN CHI WAN  
BEIJING TONG REN TANG (Premium Brand) 

360 pills / bottle
Also known as Jin Gui Shen Chi Wan, Jin Gui Shen Qi Wan, 北京同仁堂 金匱腎氣丸
JIN GUI SHEN CHI WAN:
Jin Gui Shen Chi Wan is an herbal remedy that provides optimal support for restoring the vital energy and function of the kidneys.  When kidney health is not optimal, many problems will occur, more commonly as low back pain and leg problems.  Jin Gui Shen Chi Wan is also used to support the health of your upper respiratory system.

Jin Gui Shen Chi Wan contains Chinese Yam Rhizome, which is believed to benefit the stomach, lungs, spleen and kidneys.  Herbalists in Asia have long used it to help support the digestive tract and upper respiratory system.  Some people also find that it is useful to fight fatigue.

This formula also contains Rehmannia Root, which is often used to support joints. It can support the blood and support the production of white and red blood cells.  Rehmannia Root is thought to help to support the function of both the liver and the kidneys – and helps the liver to be in better condition so that you can enjoy better overall health.
JIN GUI SHEN CHI WAN IS USED FOR:
- Kidney Yang Deficiency
- Low back pain
- Weakness of the lower extremities (legs)
- Dysuria (painful urination)
- Nocturia (urination at night)
- Excessive urination
- Urine incontinence 
- Overactive bladder
- Edema (swelling) of the face and feet

HERBAL INGREDIENTS FOUND IN JIN GUI SHEN CHI WAN:

Prepared Rehmannia Root
Chinese Yam Rhizome
Asiatic Dogwood Fruit
Alisma Rhizome
Polyporus Sclerotium
Tree Peony Root Bark
Achyranthes Root
Cinnamon Bark
Asian Psyllium Seed
Honey


TRADITIONAL CHINESE MEDICINE (TCM) BENEFITS OF JIN GUI SHEN CHI WAN:
- Nourishes Yin and blood
- Tonifies kidneys
- Nourishes Kidney Yin and Yang
- Strengthens the spleen
- Dispels cold
- Eliminates dampness
- Facilitates Qi flow
SUGGESTED DOSAGE OF JIN GUI SHEN CHI WAN:
Recommended to take 20 - 25 pills each time, twice daily with water.


UPC 049987012170
Manufactured by Tong Ren Tang Technologies Co. Ltd. Pharmaceutical Factory

Product of Beijing, China