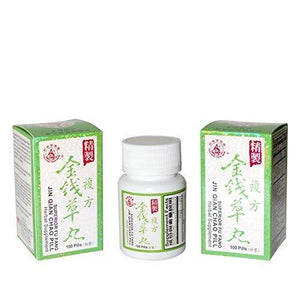 PRODUCT DESCRIPTION:
SUPERIOR FU FANG JIN QIAN CHAO PILL
Also called 複方 金錢草丸
Size 100 Pills / Bottle
JIN QIAN CHAO PILL:
Superior Fu Fang Jin Qian Chao Pill is a trusted and useful herbal remedy used to maintain a healthy urinary tract.  
HERBAL INGREDIENTS FOUND IN JIN QIAN CHAO PILL:
Active Ingredients
Coin-leaved Desmodium Stem and Leaf, Pyrrosia Leaf, Alisama Tuber, Astragalus Root, Corydalis Tuber, Japanese Climbing Fern Spore, Amber, Chinese Licorice Root and Stalk.

Inactive Ingredients
Water and honey.
SUGGESTED DOSAGE OF JIN QIAN CHAO PILL:
Take 5 pills each time, 3 times a day with lukewarm water.
UPC 049987012125
Manufactured by Guangxi Wuzhou Sanhe Pharmaceutical Co., LTD.
Made in China