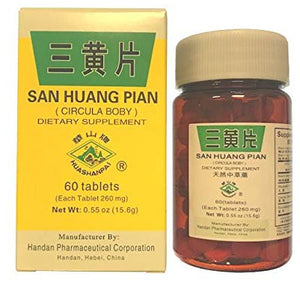 PRODUCT DESCRIPTION:
SAN HUANG PIAN
60 tablets
Also known as Circula Boby, 三黃片
SAN HUANG PIAN:
San Huang Pian, also known as Circula Boby, is made with a combination of three herbal ingredients: Da Huang, Huang Lian and Huang Ling.  In Traditional Chinese Medicine (TCM), these three ingredients are commonly used together to reduce inflammation in the body.  Excess inflammation in the body causes a variety of problems such as sore throat, mouth sores, constipation, indigestion and even eruptions on the skin.
San Huang Pian reduces inflammation, supports healthy of the body, alleviates discomfort feelings from inflammatory disorders, relaxes the bowels and keeps the skin looking heathy and glowing.  San Huang Pain assists with detoxification, supports the healths of eyes, mouth, nose, throat and urinary system.
SAN HUANG PIAN IS USED FOR:
✔ Excess heat
✔ Inflammation - mouth and nose sores, throat and tooth pain
✔ Constipation
✔ Indigestion
✔ Skin eruptions - skin rashes and acne
HERBAL INGREDIENTS FOUND IN SAN HUANG PIAN:
Rhubarb (Da Huang)
Coptis Chinensis Root (Huang Lian)
Scutellaria baicalensis root (Huang Ling)
TRADITIONAL CHINESE MEDICINE (TCM) BENEFITS OF SAN HUANG PIAN:
- Clear heat
- Drains fire
- Invigorates blood 
SUGGESTED DOSAGE OF SAN HUANG PIAN:
4 tablets each time, twice daily.
This statement has not been evaluated by the Food and Drug Administration. This product is not intended to diagnose, treat, cure, or prevent any disease. Storage: Keep sealed and store in cool and dry places.

UPC 6923888899051
Manufactured by Handan Pharmaceutical Corporation
Made in Handan, Hebei, China