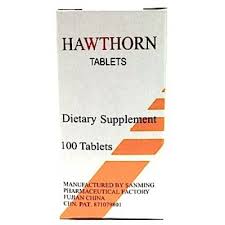 PRODUCT DESCRIPTION:
HAWTHORN TABLETS
Size 100 tablets
Also known as Shan Zha Jiang Zhi Pian, 山楂降脂片
HAWTHORN TABLETS:
Hawthorn Tablets, also known as Shan Zha Jiang Zhi Pian, is a strong fat-reducing formula to help burn excess body fat by increasing fat metabolism.  Hawthorn Berry is well-known in Traditional Chinese Medicine used to improve digestion, remove food retention and promote healthy blood circulation.
In Traditional Chinese Medicine (TCM), Shan Zha (also known as Hawthorn Berry) is an herb used to eliminate food stagnation, move Qi and disperse stasis.  Hawthorn Berry is a fruit commonly found in China, and people eat it to relieve stomach bloating and promote digestion after a large meal or fatty meal.  
In the West, herbalists popularly use Hawthorn Tablets for diseases of the cardiovascular system such as high blood pressure, "hardening of the arteries" (atherosclerosis), high cholesterol, congestive heart failure (CHF), chest pain, and irregular heartbeat.

HAWTHORN TABLETS IS USED FOR:
✔ High cholesterol
✔ High blood pressure
✔ Atherosclerosis
✔ Cardiovascular health
✔ Support blood circulation
✔ Disperse blood stasis
✔ Indigestion
✔ Weight loss
KEY BENEFITS OF HAWTHORN TABLETS:
- Lowers accumulation of fats
- Reduces cholesterol
- Promotes antioxidant activity
- Supports digestion and weight loss
HERBAL INGREDIENTS FOUND IN HAWTHORN TABLETS:
Chinese Hawthorn Fruit Extract, Cane Sugar, Sucrose Starch
TRADITIONAL CHINESE MEDICINE (TCM) BENEFITS OF HAWTHORN TABLETS:
- Benefits the stomach Qi
- Dispels dampness 
- Invigorates the blood


WHAT ELSE YOU NEED TO KNOW ABOUT HAWTHORN TABLETS:
When Hawthorne Tablets is combined with Bojenmi Tea, you will find together they are effective as a natural solution to metabolize and burn fat all day long.
SUGGESTED USAGE OF HAWTHORN TABLETS:
- Take 1 to 2 tablets, 3 times a day as needed.
- Do not use if pregnant.
UPC 6905817430115
Manufactured by Sanming Pharmaceutical Factory
Made in Fujian, China